POSTPONED due to Omicron surge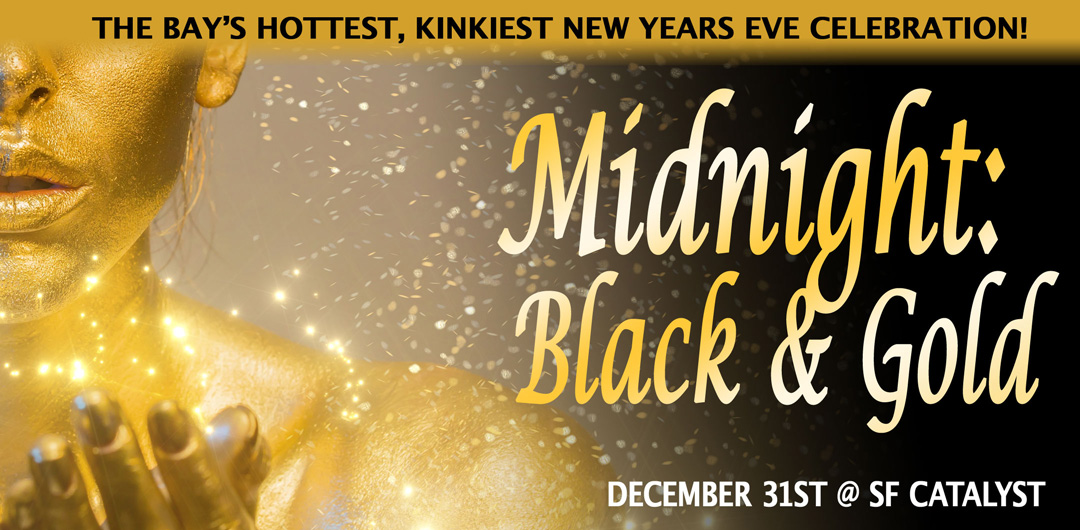 Come Celebrate With Your Fellow Kinksters at San Francisco's Last Kinky Party of 2021!
We will move some play equipment outside into the courtyard to create an outside playspace. We will also be setting up some seating outside to make an outdoor social area too.
Verify with a vaccination card, a photo of the vaccination card or a California digital vaccine record that they have been fully vaccinated against COVID-19.
Have their temperature checked.
Take a rapid COVID-19 test at the door.
Remain masked throughout the party except when actively eating, drinking or engaging in oral play.
If a guest's temperature is elevated or their rapid test is positive for COVID-19 they will be disallowed entry and receive a refund of their ticket. The cost of the test is non-refundable.
Useful links:
The Bay Area's hottest kinky party on New Years Eve will be at SF Catalyst and doors open on Friday December 31st at 8PM!
We should all start as we mean to go on, and starting a new year should be no different. If you want your 2022 to be filled with, fun, friends, frolics and fantasy then see in the new year partying with other hot and kinksters, while surrounded by community in San Francisco's last remaining community dungeon!
The theme this year is Black & Gold. With all the turbulence of the last year and beyond, we think a little tradition on NYE will be a welcome anchor.
This will be San Francisco's last kinky party of 2021 and we are going to celebrate in style!
We are lining up features to entertain and thrill. Don't miss the amazing culinary spread that will be on offer. Whether you make new connections with our fun ice-breakers, socialize with new and old friends, enjoy playtime in the dungeon, etc. this will be a night to remember! This party is safe and inclusive. This is a dry event except for the toast at midnight when each guest may have a flute of either Martinelli's sparkling cider or champagne!
Everyone is welcome
We work hard create and maintain an atmosphere that is accepting and welcoming, not just tolerant of people from diverse backgrounds. People of all dynamics, kink experience levels, genders and orientations are welcome to join us.
Here is what you can look forward to at Midnight: Black & Gold...
Indoor and outdoor play and social spaces.
Role Stickers and icebreakers to help you meet people and spark fun conversations that could lead to who knows what...?
Burlesque performance by Chris Spiteri (AKA Bramani Quinn)
House Photographer FireDragonPhoto
Midnight toast with option of champagne or Martinellis
Delicious spread by Chef Jade
Plenty of hot kinky play in San Francisco's last remaining community playspace.
The Details
Where:
SF Catalyst,1060 Folsom Street, San Francisco, CA 94103
When:
Saturday December 31st 2021, 8 PM -1 AM
Entry:
Prepaid tickets are highly recommended for lower prices and to save your spot. A free rapid test is included with every ticket at checkout.
General Admission Tier 1: $70
General Admission Tier 2: $90
General Admission Tier 3: $120
Important:
All attendees must arrive between 8:00PM and 11:30PM in order to be rapid-tested and cleared to enter the event. Doors close at 11:30PM so please make sure to arrive before then otherwise you may be denied entry without a refund.
You must be fully vaccinated as of the day of the event. This means you must have received a single shot vaccine or the second shot of a two shot vaccine on or before 12/16/2021. You must be able to demonstrate that with your CDC Vaccine card, a photo of your CDC vaccine card, or official digital vaccine record. If you received your vaccination in California your vaccine provider has uploaded your vaccine record to the California Department of Public Health. You can access your COVID-19 vaccination record at the state website here: https://myvaccinerecord.cdph.ca.gov/. Please get your QR code from the state website and show it to the security staff upon arrival at Midnight along with your ID. We recommend that you screenshot the page with your QR code for easier retrieval.
Consent is Paramount
Part of our responsibility in fostering a consent culture is to provide guidance to help prevent consent incidents from happening at our events. Any consent concerns can be given to the hosts at the party or here on Fetlife, with a promise of confidentiality if desired.
Informed and voluntary consent is always required before play. The entire scope of any scene, including what parts of the body there may be contact with and the nature of such contact, should be negotiated prior to beginning any actual play.
People at our events come from different backgrounds and have vastly different life experiences. All attendees may expect to be treated by event staff and other attendees with respect irrespective of age, ethnicity, sexual orientation, gender identity, body type, disability, etc.
People can expect that their persons and property shall not be touched without prior permission.
Attendees should not be addressed as "Mistress", "Sir", "slut", "slave", etc. or any potentially offensive terms or violating words unless they have given prior permission.
Each participant in a scene is responsible for making sure that everyone involved in the scene has the mental and emotional ability to give informed and voluntary consent for the scene. We consider people who are under the influence of substances, in subspace or otherwise not in a clear state of mind to be incapable of giving informed and voluntary consent.
While playing, players may not do anything that was not already explicitly agreed to.
Any participant in a scene has the right to withdraw consent at any time by means of an agreed-upon safeword, a non-verbal safesign or using the house safeword "SAFEWORD". Once consent is withdrawn, all activity in the scene must stop.
For any consent related questions or concerns please contact us confidentially at info@afterdark-events.com.